The Lost Villages: An Oral History of Miners' Rows and Deindustrialisation in East Ayrshire, Scotland.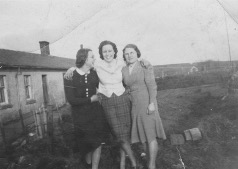 The 'miners' row villages' in the Ayrshire coalfield are a remarkable and distinctive man-made feature in the landscape and transformed the upland areas where they were set. When they were built they played a vital role but could not survive the exhaustion of the mineral resources they were built to exploit. Although deindustrialisation, depopulation and open-cast mining has destroyed much of the physical evidence of these places, there are still surviving traces of them and they are of real importance not only to the Cumnock and Doon Valley area, but to the industrial history, social and cultural history and heritage of Scotland as a whole.
The Lost Villages is an oral history project by the Scottish Oral History Centre at the University of Strathclyde, led by researchers Prof Arthur McIvor and Dr Yvonne McFadden. We are looking to recover the history of East Ayrshire's Lost Villages by collecting the stories of the families who lived in the miners' rows in the villages of Benquhat, Commondyke, Burnfoothill, Glenbuck, Lethanhill and Darnconner. As the coal pits began to close in between the two wars, such as Grasshill near Glenbuck in 1933, the lifeblood of these villages was gone. The miners' rows were gradually demolished during the 1940s and 1950s and the communities relocated to new housing in the local area. Little, if anything, remains of the villages apart from the living memory of those who lived there.
We aim to reconstruct the social and cultural life of the vibrant coalfield communities that existed in East Ayrshire and the experience of pit closures, depopulation and community disintegration in these so-called 'lost villages'. We want to tell the story from lived experience; from the memories of those who witnessed working in the coal mines and living in the miners' rows and what it meant when the pits closed. We aim to capture the 'intangible history' of life in the 'row villages' and the impact of deindustrialisation.
Here is our project researcher talking about the project and our aims including some oral history extracts.
If you would like to take part in the project, as a volunteer (training will be given) or be interviewed about your experience of living in one of the villages, or as a family member of someone who lived there, then please do contact us. We would also welcome copies of any photographs or documents or knowledge you might be willing to share about the 'lost villages'.
If you would like to find out more or get involved with the project, please see our Get Involved section
The project is funded by the Heritage Lottery Fund Scotland and Historic Environment Scotland, and is part of the Coalfield Communities Landscape Partnership (East Ayrshire Council).